Overview list layout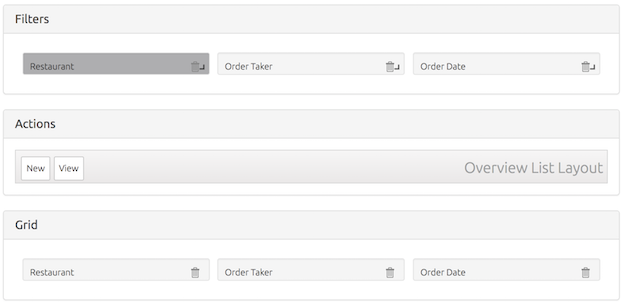 The overview list layout has two sections:
Filter section, containing the filter fields.
Grid section, containing the fields that users can see in the layout (depending on the permissions).
Creating a new overview list Layout
Please take the following steps to an overview list layout:
Go to Settings.
Click on Layouts
Click on New, the New Layout modal opens.

The window that shows up has 4 fields: the Label, Name, Type and Document.
Give the layout a label and a name. Select the Overview Grid type.
Select the corresponding document definition.
By clicking the Ok button, the layout will be created.
Adding a field to the overview list layout
Please take the following steps to add filter fields to the layout:
Select a field from the Library.
Drag and Drop the field to the Filter section.
When you are done editing, click the Save button, the overview list layout will be persisted.
You can also add columns to the filter section by clicking the Set number rows / columns pencil

You can set a predefined Sorting order by clicking the Set sorting

. There is no sorting by default, the sorting icon shows up by clicking on the field.
For setting other field values you can refer to this section.
In the library for filter fields you can find the fields available for filtering. These field are:
| Field name | Available for Filtering |
| --- | --- |
| Text | Yes |
| Number | Yes |
| Date | Yes |
| Time | Yes |
| Email | Yes |
| Checkbox | Yes |
| Reference | Yes |
| Formula | Yes |
| Status | Yes, this is a special field |
| Blank space | Yes, this is a special field |
| Last Modified On | Yes, this is a special field |
| Created On | Yes, this is a special field |
| Picklist | No |
| Attachment | No |
| QR | No |
| Geolocation | No |
| Signature | No |
| Autocomplete | No |
| Chat | No |